Other Arwen Whippets
Photo Gallery
To date, Arwen Whippets has bred a total of 38 puppies (5 litters in 8 years).  3 litters (19 puppies) out of Ch Chelsea Supernatural Odyssey JC ROM and 2 litters out ot Ch Arwen Glitter Fantasy (19 puppies).
All puppies are in their original, loving homes.
Flora and Spike did are no longer with us but will remain forever in our hearts..
I would like to honor and thank all the wonderful people that have provided these beautiful whippets with forever, loving homes.
Lisande Donohoe
07/05/2011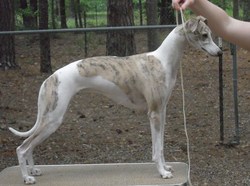 Arwen Annis's Song (Ava) lives in Houston, TX with her owner/handler Gin McDaniels. She is making her show debut in July 2011.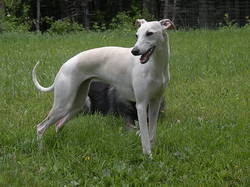 Arwen Beautiful Dirty Rich (Phantom) lives with her loving Family in Halifax, Nova Scotia. She will be show in 2011.
Sookie wins BIF Sept 2011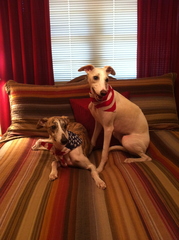 All American whppets ~ Malcomb and Lola living the good life in Akransas with their loving owner Nicole.